Drones applications benefits have been recognized by diverse industries around the world, from commercial inspection and surveillance to more complex operations as delivery or goods transport.
For these operations, drones offers lower risk to personnel and increases cost efficiency over mobilizing aircraft.
However, utilizing this new technology can provide significant risks to stakeholder investments, property and productivity.
Drones mishap rates are up to 300 times greater than general aviation. Costs from damage of equipment can run into hundreds of thousands of euros. Notwithstanding provision for indirect costs relating to injury, death or derivative liability.
Regarding these ideas, Alter Technology has developed a set of drones services encompassed in the concept of SAFETY.
In this concern of safety in drones, our company, established 3 different strategic areas where offer the best of the services in the market:
     a. Functional Safety
Two concepts are gained importance through the years in this context, these are known as Safety and reliability.
Different potential hazards are present around a drone activity. Functional evaluation is required with a minimum acceptance criterion in order to mitigate the associated risks from the development stage and along the entire lifecycle.
     b. Operational Safety
Oriented to the Assessment, verification, and validation of operational aspects related to a specific activity with drones.
     c. Product Safety
Related to the development and performance of laboratory tests to demonstrate compliance with European Directives, including the European Proposal for product compliance for drones given by the European Aviation Safety Agency (EASA) in the year 2017.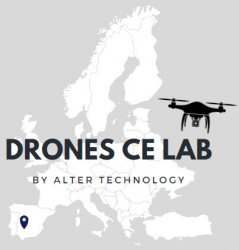 Latest posts by Drones CE Lab
(see all)