Electronic Design Process Symposium 2019
Thursday, October 3, 2019 - 8:00 am

/

Friday, October 4, 2019 - 5:00 pm

CEST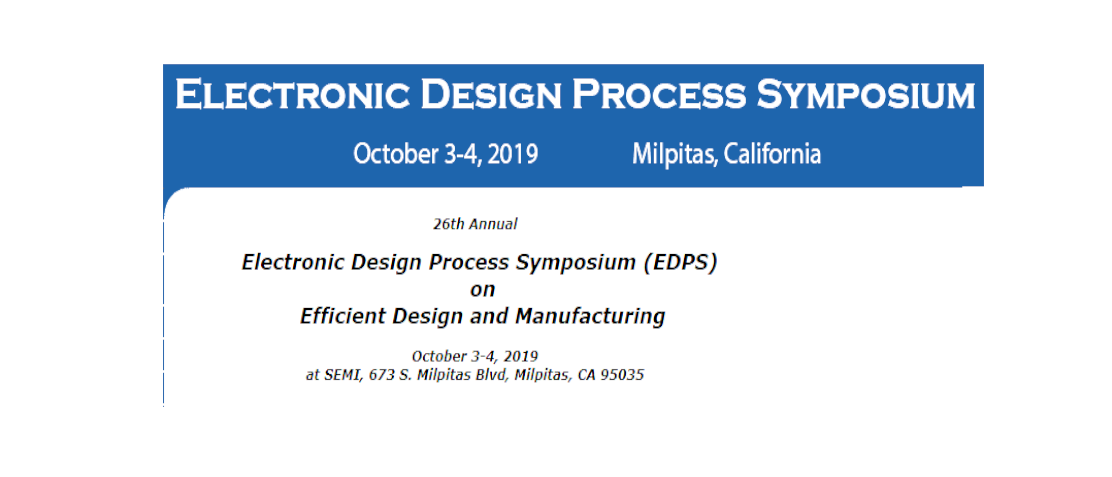 Electronic Design Process Symposium (EDPS) on Efficient Design and Manufacturing
EDPS Symposium History
The EDPS Workshop, which in past years took place in Monterey, California, now takes place in the San Jose area at the SEMI facility in Milpitas, CA, emphasized both the here and now and the future of efficient electronics design and manufacturing process and methodology. Attendees of this elite workshop have met each year since 1993. It has attracted some of the most far-seeing people in electronics design and manufacturing as speakers. If you need to know where the industry is and where it's going with respect to design and manufacturing, and specific methodologies and techniques of efficient design and manufacturing, you should consider attending this coming year.
The 2019 Electronic Design Process Symposium will be a leading forum for advanced chip and systems design processes development and CAD methodologies.
Recent advances in computational power, data science technology, and associated applications have led to the development and proliferation of machine learning, intelligent manufacturing, and predictive design methodologies. New techniques are also emerging to enable reduced NRE and faster time to market, which are critical components in any semiconductor business.
Possible EDPS 2019 Efficient Session Themes tentatively Include:
Cyber Systems Design with emphasis on security
Machine Learning in System Design and EDA
Smart Manufacturing
Innovative Designs and Design Techniques
Systems Synthesis
Smart Verification
System reliability
Authors should submit full-length original and unpublished papers along with author contact information. Proposals for special, poster, and panel sessions may also be submitted; a 1-page description along with organizer contact information is required.
Send papers or other Proposals
with "2019 Paper Proposal" in the "Subject:" line to:
edps-commmittee@googlegroups.com.
Tentative Important Dates:
Jul. 15 – Abstract Submission Deadline
Jul. 31 – Acceptance Deadline
Aug. 31 – Camera Ready Copy of Final Presentation
Oct. 3-4 – On-site Registration
Program Info.: 
Thursday, October 3rd, 2019
Session 1: Innovate Design Techniques
Session 2: Cyber Security
Session 3: Advanced Packaging
Friday, October 4th, 2019
Session 4: AI for Design and Manufacturing
Session 5: System Reliability for ADAS, AI, 5G, and Photonics
Symposium Wrapup
Latest posts by Media ATN
(see all)