ICSO 2016
Tuesday, October 18, 2016 - 8:00 am

/

Friday, October 21, 2016 - 5:00 pm

CEST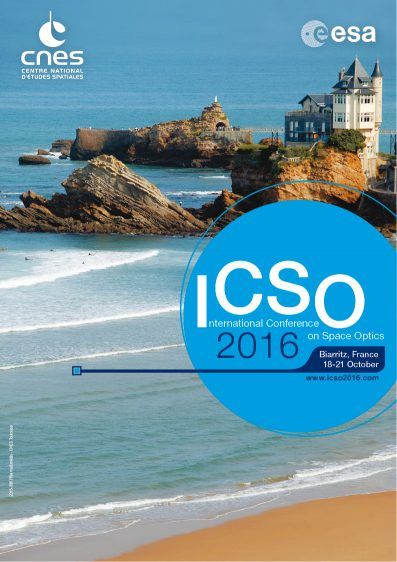 International Conference on Space Optics
The purpose of ICSO 2016 (International Conference on Space Optics) is to bring together the Space Optics Community and exchange information and ideas on the Research, Development, Qualification and Flight Experience of using optical technologies for space missions. Technology experts meet Mission experts to address the lessons learnt from past developments and identify the next significant developments in employing lightwave technologies and techniques used in all types of Space Missions.
Juan Barbero , Innovation, Optoelectronics and New Technologies Technical Manager, from Alter Technology, is part of the Programme committee .
Our experts participate in the following papers,
Radiation tests on semiconductor optical sources for space applications
Mid-power PM booster and optical fiber pre-amplifier for 1.55 µm satellite laser communications
Optoelectronic Modules for Space Applications
Multi-core Fiber Amplifier Arrays for Intra-Satellite Links
Random-modulation differential absorption LIDAR based on semiconductor lasers and single photon counting for atmospheric CO2 sensing
Programme ICSO 2016

GDE Error: Unable to load requested profile.
Topics
TOPIC 1 – IMAGERS AND RADIOMETERS
High spatial resolution
Stereoscopy
Large field of view
High radiometric resolution
Multidirectional observation
X-ray and gamma ray
Multi spectral imagers
TOPIC 2 – SPECTROMETERS
Passive sounders for atmospheric monitoring
Imaging spectrometers
Hyperspectral instruments
Multi-object spectrometry
Miniaturized spectrometers
Echelle spectrometers
Etalon spectrometers
TOPIC 3 – LIDARS AND LIBS (Laser Induced Breakdown Spectroscopy)
Wind, cloud, and aerosol measurement
Green-house gasses monitoring (DIAL or other)
Altimetry and ranging
Composition of planetary geological bodies
Multispectral Lidars
Synthetic aperture LIDAR
LIC and LIDT
TOPIC 4 – METROLOGY (SENSORS, ATTITUDE CONTROL, NAVIGATION, INTERNAL METROLOGY)
Star-tracker sensors
Earth and sun sensors
Laser and fibre gyroscopes
Attitude measurement systems
In-flight measurement and calibration (active control and metrology)
Rendez-vous and docking sensors
Clocks and Frequency references
Inertial sensors (accelerometers, gradiometers, gravimeters) classical and cold atoms
Metrology for interferometers
Line of sight calibrations
TOPIC 5 – SCIENTIFIC AND FOCAL PLANE INSTRUMENTATION
Nulling interferometry
Integral field spectrograph
Astrometry
Coronagraphy
TOPIC 6 – TELESCOPES AND LARGE OPTICS
Technologies for large lightweight mirrors
New materials and associated technologies
Active large aperture telescopes
Optical simulation and performance predictions
Thermo-optical modeling
Novel optical systems design
Advances in metrology for large optics, wavefront sensing
Actuation technologies for deformed mirrors
Gamma and X-Ray
VUV and EUV
Far and Near Infra Red, sub millimetre
Visible
Multiple aperture optical systems
TOPIC 7 – LASERS
Semiconductor lasers
Fiber lasers
High power/energy solid state lasers
Frequency combs
Laser subcomponents (pump diodes, Pockels cells)
Frequency Stabilised Lasers
Supercontinuum Lasers
TOPIC 8 – DETECTORS AND FOCAL PLANE TECHNOLOGIES
Detectors for visible wavelength: CCD, CMOS, EMdetectors, new concepts
Detectors for infrared wavelength, cooled and uncooled : MCT, InGaAs, InSb, APD, QWIP, QCD, µbolometers…
Detectors for UV wavelength: Silicon, intensified detectors, EB detectors, high bandgap materials
Detectors for high energy (Xray, gray) : µcalorimeter,Silicon, narrow bandgap materials, massive materials
Detectors for Submm and mm, for coherent detection :,bolometers, TES, KID, STJ, SSPD
Advanced detector concepts
Advanced concepts and components for detection electronics : readout circuits, AFE; architectures
New materials for detectors
Complex focal planes
Spectral separation and filters
Electronics for focal plane (ASIC's, COTS, hybrids, module, qualification)
Avalanche Photod- Diodes in HgCdTe
Measurement methods for performance assesment
TOPIC 9 – FIBER OPTICS AND MICROPHOTONICS
Photonic Communications (analog and digital)
Photonic Sensing (sensors and interrogation units)
Photonic Microwave Signal Processing (signal generation-frequency conversion-switching-filtering-beam forming)
Photonic speciality applications (optical wireless, imaging fibers, opto-pyrotechnics)
Photonics in Launchers
Acousto-optic and electro-optic modulators
Photonic Integrated Circuits
Qualification of optelectronic and active photonic components (transceivers, fiber amplifiers) and Qualification Standard
TOPIC 10 – PASSIVE OPTICAL COMPONENTS
Polarizing components and polarisation control
Thin-films coatings, Dense Coatings
Lenses and Collimatos
Diffractive and reflective optics
Waveguides, Photonic Crystal Fibers
Fiber Cables and Fiber Connectors
WDM (Wavelength Division Multiplexing) and splitters
Faraday isolators
Frequency doubling and conversion
Qualification of passive optical components and Qualification Standards
TOPIC 11 – OPTICAL AND QUANTUM COMMUNICATIONS
In-orbit and on-ground demonstrations and results
Present and future optical communication systems and technologies
Deep-space optical communication
Optical communication systems for small satellites
Ranging technology with optical communications
Advances in quantum communications
TOPIC 12 – OTHERS
Light scattering-straylight
Defect and sub-surface damage detection
Optical systems contamination measurement and control
Cryogenic optical systems
Optical verification methods
Optical Ground support Equipment
Packaging of Optoelectronics & Photonics
Latest posts by Media ATN
(see all)