Workshop – Robótica y sistemas no tripulados para aplicaciones de seguridad
Friday, December 2, 2016 - 8:00 am

/

8:00 pm

CET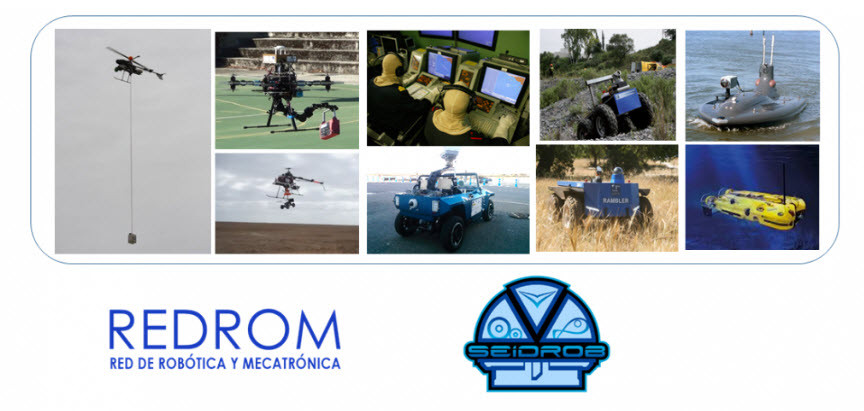 Robótica y sistemas no tripulados para aplicaciones de seguridad
Alter Technology participará con la ponencia
Metodología y técnicas aplicables a Robots-RPAS para su puesta en el mercado y operaciones seguras, Julián Gallego, Alter Technology
MADRID, 2 DE DICIEMBRE DE 2016
ORGANIZADO POR:
Red Española de Robótica y Mecatrónica (REDROM)
Sociedad Española de Investigación y Desarrollo en Robótica (SEIDROB)
CON LA COLABORACIÓN DE:
Proyectos H2020 MARINE-UAS, H2020 AUGGMED,  RETOS 2015 FIRST-ROB, FP7 TIRAMISU, H2020 LOGIMATIC
Corporación Tecnológica de Andalucía
PROGRAMA:
10:00- 10:10 Inauguración
10:10-11:15 Investigación, desarrollo e innovación para una sociedad segura: Programas y necesidades (Presentaciones de organismos gubernamentales y cuerpos de seguridad)
Programas I+D+I:
Programa de Seguridad H2020, Maite Boyero, CDTI
Apoyo de programas españoles desde la colaboración público-privada, María del Carmen Vicente, Agencia Estatal de Investigación, MEIC (Ministerio de Economía, Industria y Competitividad)
Necesidades I+D+I
Necesidades en Seguridad, Santiago Maroto, Secretaría de Estado de Seguridad, Ministerio del Interior
Necesidades en la Policía, José Antonio Cebrián, Policía Nacional, Ministerio del Interior
El empleo policial de los RPAS, Capitán José Antonio Hernán Belinchón, Guardia Civil, Ministerio del Interior
Sistema de Observación y Prospectiva Tecnológica, Teniente Coronel Juan Manuel González y Capitán Carlos Calderón, Ministerio de Defensa
11.15-12.20 Sistemas y aplicaciones (Presentaciones de empresas)

Aplicación de los "Optionally Piloted Vehicles" (OPV) a la seguridad, Javier Barcala, INDRA
Explotación de información de RPAs en entornos internacionales, Ricardo Sáenz, GMV
Vehículos autónomos para aplicaciones de seguridad en entornos navales. , Alberto Gonzalez Cantos, NAVANTIA
RPAS: tecnología para la seguridad y a la vez potencial amenaza, José Antonio Ceballos Peláez y Adrián Jiménez Gonzalez, EVERIS
Medidas para contrarrestar la utilización de DRONES con fines terroristas y la situación de la tecnología actual, Daniel Mosquera y Álvaro Manresa, ISDEFE
Tecnología COTs aplicada a vehículos no tripulados fiables para el ámbito de la seguridad, Samuel Álvarez González, IN-NOVA
12.40-13.50 Resultados de universidades y centros de Investigación

Resultados del proyecto Europeo TIRAMISU en desminado humanitario, Manuel Armada, CAR (CSIC-UPM)
Tecnología Robótica de Primera Intervención para la Cooperación con Equipos Humanos y Unidades Caninas en Emergencias y Catástrofes, Alfonso García Cerezo, Universidad de Málaga
Robots aéreos y sistemas no tripulados para detección, seguimiento e intervención, Anibal Ollero, Universidad de Sevilla
Sistemas robóticos para vigilancia de fronteras, Jesús Marcos, Tecnalia
Sistemas Antidrone. Nuevos retos y oportunidades, Antidio Viguria, CATEC
Robots autónomos en vigilancia de infraestructuras e intervención, Luis Montano, Universidad de Zaragoza
Advanced automated navigation solutions for container terminals based on security-enhanced anti-spoofing GNNS and sensors onboard SC vehicles, Juan Andrade, CSIC- Universidad Politécnica de Cataluña
Aplicaciones de la realidad virtual a la protección de los cuerpos de seguridad, Jose Manuel Breñosa, CAR (UPM-CSIC)
13.50-14.40 Métodos y tecnologías

Sistema de Enseñanza RPAS tipo II de AIRBUS DS para misiones de seguridad, José Manuel Zayas, AIRBUS DS
Metodología y técnicas aplicables a Robots-RPAS para su puesta en el mercado y operaciones seguras, Julián Gallego, ALTER Technology
Los RPAS y la extinción nocturna, Luis M. Bordallo, NITROFIREX
Retos en el uso, despliegue y ejecución de operaciones de seguridad con UAVs, Pedro Becerra, AERTEC
Ciberseguridad de sistemas robóticos, Vicente Matellán, Universidad de León
Unmanned Search and Rescue with a fleet of heterogeneous robots, Daniel Serrano, EURECAT
La visión a bordo de los UAVs, Pascual Campoy, CAR (UPM-CSIC)
14.40-15:00 Conclusiones y análisis de posibles iniciativas
Folleto Informativo:
GDE Error: Unable to load requested profile.
Latest posts by Media ATN
(see all)