The Equipment Testing and Certification (EC) department of Alter Technology is a provider of  technological solutions regarding product  compliance to  companies in high demanding industries such as Aerospace & Defence, Security and Fire, Railway etc. Our objective is to provide our customers with efficient testing and certification solutions and to give response to new technological challenges.
Quality and Engineering Services for Complex Systems
Assuring quality, reliability, safety and performance
Product quality assurance of complex systems presents particular difficulties that require a solid expertise to achieve the objective without jeopardizing the time to market and optimizing the cost of the solution. These complex systems are composed of several subsystems, result of the integration of products of different nature, type and origin, which require a depth analysis of the whole system life cycle.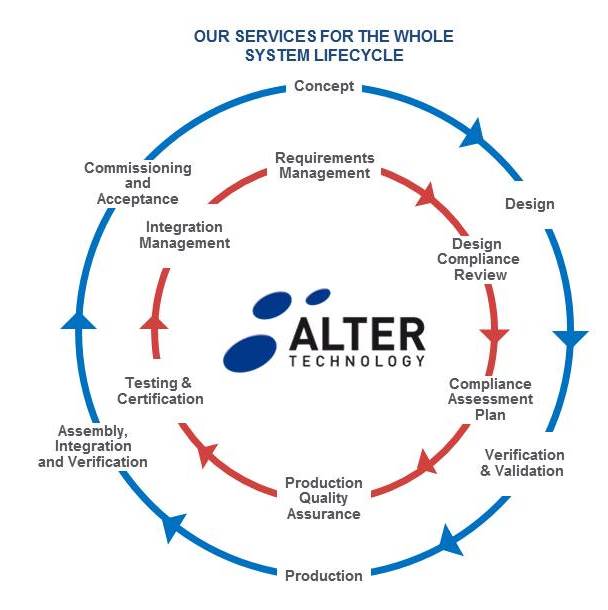 The system manufacturer requires the collaboration of a reliable partner such as Alter Technology that gives support along the whole process with the quality engineering, consultancy and testing services needed.
Requirements Management
Taking into account the intended use of the product, requirements, constraints and statutory regulations and standards are identified and assessed. They can be managed through a tool such as DOORS.
System Regulatory Compliance and Standards
CE Marking (EMC Directive, Low Voltage Directive, Machinery Directive, Radio. Equipment Directive, Pressure Equipment Directive, ATEX, CPR, RoHS, ErP)
IEC/EN, FCC, MIL-STD, RTCA-DO and nuclear standards
System Lower Level Specifications Requirements
Environmental conditions
Reliability engineering
Safety
Functional
Radiation
Design Review
To ensure the system compliance with the requirements by means of design measures.
HW & SW products trade- off and market surveys
COTS requirements specifications
Pre-qualification testing and recommendations concerning design
Environmental and EMC control plans
Suppliers management so that the supplied products fulfills the requirements
Verification & Validation Plan
To identify the required verification method (analysis, test, inspection) and the corresponding activities, planning and tools which will allow to show that the system fulfill the applicable requirements.
Compliance matrix (V- model).
Verification and Validation plan:
Verification levels: equipment/system/component.
Qualification: test and inspection plan.
Factory acceptance and Site acceptance plans.
Production Quality Assurance
Assure the quality of the equipment, materials, structures, components and processes utilized in the manufacturing, assembly and future operation of the whole system.
Ensure quality assurance and quality control at manufacturer´s facilities:
Factory audits (QMS and production line)
Factory Acceptance Tests (FAT)
Quality of the subsystems production (welding quality; boundary scan…)
Components counterfeit
Obsolescence management
Verification, Testing
The following testing services for complex systems, equipment and components are provided.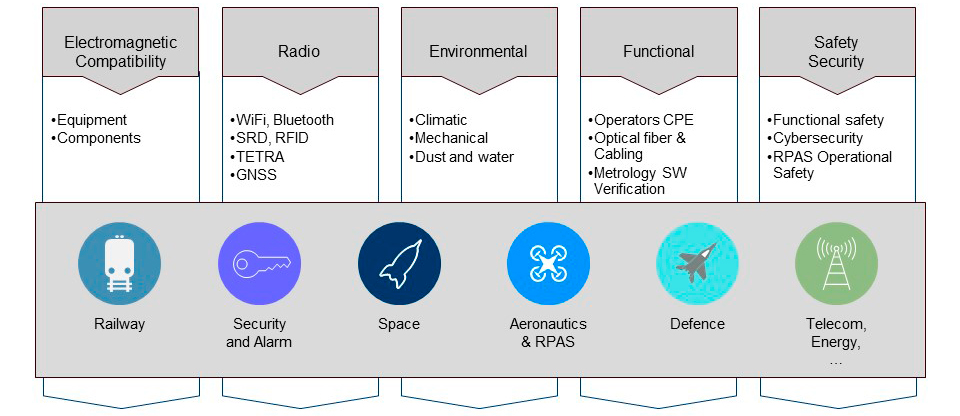 EMC
Tests according to EN standards for CE marking, MIL-STD-461 and RTCA DO 160, CISPR.
Radiated and conducted emissions and Susceptibility
RELIABILITY
System Reliability.
Reliability prediction.
Failure modes, effects and critically analysis (FMEA).
Safety Analysis.
Infant mortality testing.
Accelerated life testing.
RADIATION
DLA- MIL Laboratory Suitability.
Low and high dose rate (from 0+ to >100 Krad (Si)/h).
Static and dynamic biasing.
Remote conditions monitoring.
SAFETY
EN, IEC standards.
Electrical, mechanical, thermal and acoustic testing.
Fire propagation.
Human exposure to electromagnetic fields.
Risk analysis and functional safety.
OPTICAL
Photometric and colorimetric analysis of railway and road traffic equipment.
ENVIRONMENTAL
IEC standards, MIL-STD-810 and RTCA DO 160.
Dry heat, cold, humidity and climatic shock.
Salt mist, dust and rain.
Solar radiation and altitude.
Vibration and shock.
Acoustic noise.
RADIO
Tests to verify performance of RF equipment, cables and devices.
Test in manufacturers´ facilities through witness testing program.
SECURITY PRODUCTS FOR ALARM SYSTEMS
Testing of security products:

Intrusion and Hold-up systems.
Access Control systems.
Alarm Transmission systems.
Video Surveillance systems.

Certification solutions for multi-systems and product families.
Monitoring of regulatory updates.
Support For Acceptance
System Integration & global conformity.
Onsite Acceptance Tests (SAT).
Failure Analysis
System facility compliance.
System Technical Documentation.
Certification & Equipment Testing ( SERVICES | MARKETS )
TEST METHODS | Equipments
This post is also available in: Spanish