The recent evolution of this market has caused, somehow, a revolution from the normative & regulatory framework perspective. Aware of the constant changes, Alter Technology brings the most relevant regulatory documents and European proposals inside this section to make you easier the access to all these files.
Due of the RPAS weight, the application of a determinate regulation must be evaluated. Whether your aircraft has a mass above 150Kg, it is regulated by EASA, otherwise, the national authority will be liable.
Concerning European framework, several entities have provided significant effort for its development. The most important entities are:  EASA, JARUS, ICAO, and EUROCONTROL. For more information you can check our European Regulation Section.
Regarding to the European regulatory framework, EASA just published early this year an official Opinion (2018-01) in order to clarify some aspects of the NPA-A published the last year. In this concern, some product certification issues were ratified as the CE Marking and the subcategory label, mandatory requirements by the end of this 2018.
In relation with the Spanish regulatory framework, we will introduce the current R.D. 1036/2017, developed to enhance different aspects of the previous Law 18/2014. In a similar manner than the European case, further information can be found in our National Regulation Section.
.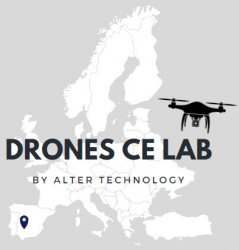 Latest posts by Drones Media
(see all)