Tin whisker growth on surface mount devices: a study using standarized test conditions
The Tin Whisker is a conductive hairy-like crystalline structures of tin that grow spontaneously from a tinned surface, usually as a result of stress of some sort, and maybe long enough to cause a big problem for those applications demanding high level of reliability.
In this case tin (especially electroplated tin) is used as a final finish. Most usually tin-plated copper.
The Tin Whisker Growth were first discovered in the 1940´s by Bell Labs and reported in a 1951 paper by K. G. Compton. 
Read more about "A History of Tin Whisker Theory: 1946 to 2004" (George T. Galyon
IBM eSG Group)
How and Why Do They Grow?
Tin Whisker commence to grow; there is no set timetable for when they start it. But, what we know, is that the Whiskers growth starts after an incubation period that varies from seconds to years.
Knowing this information, we answer four questions about tin whiskers.
Alter Technology has performed  standardized accelerated environmental test, iaw JESD22-A121A (Measuring Whisker Growth on Tin and Tin Alloy Surface Finishes) of JEDEC, for assessing tin whisker growth on three lots, with similar part types and all having the same date code, of a common surface mount device (SMD) manufactured and supplied by Ferroxcube: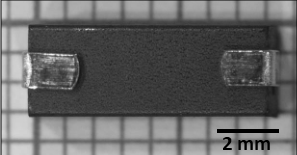 BDS3-3-8.9-4S2-Z
BDS3/3/8.9-3S1-Z
6/3/8.9-4S2-Z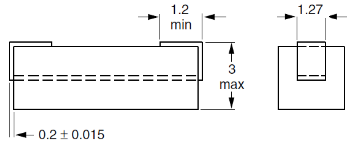 Figure 1. Overview of the device acquired with an optical microscope.
The analyzed components have metallic contacts of copper (Cu) with an underlayer of nickel (Ni), with an approximate thickness of 1.2μm, and 100% bright Sn electroplated finishes. The leads´ material composition was verified using X-Ray Fluorescence Microanalysis (XRF).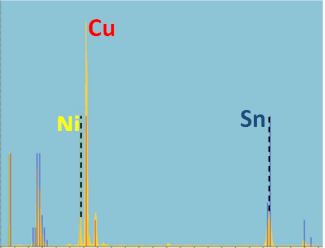 Figure 2. X-Ray fluorescence spectrum of the contacts displaying peaks corresponding to the Cu base, the Ni under-plating and the surface layer of Sn. SEM images of one 100% Sn-finished lead of a SMD bead.
The tests have consisted of a pre-conditioning, a thermal cycling test, and two isothermal tests under ambient and high temperature / humidity conditions.
 Tin Whisker Test Conditions
Tin Whisker Test Conditions
| wdt_ID | Stress Type | Test Conditions |
| --- | --- | --- |
| 1 | Temperature Cycling | Min Temperature: -55 or -40 (+0/-10) °C Max Temperature: +85 (+10/-0) °C, Air to air; 10 minutes soak; ~3 cycles/hour |
| 2 | Ambient Temperature/ Humidity Storage | 30 ±2 °C and 60 ±3% RH |
| 3 | High Temperature/ Humidity Storage | 55 ±3 °C and 85 ±3% RH |
| | Stress Type | Test Conditions |
Stannun (Sn) whiskers are very thin conductive filaments that grow, most usually from tin- plated copper.
The most likely driving force for whisker formation is a compressive stress in the Sn layer. Stress on Sn-finishes may be induced also mechanically, therefore, bending, scratches or nicks in the Sn may favor tin whisker growth.
Whiskers grow spontaneously without an applied electric field or moisture.
Tin whiskers grow under ambient conditions, under reduced pressure and even in vacuum.
The spontaneous growth of whiskers is an irreversible process.
Whiskers may be straight, kinked or hooked and their outer surfaces are usually striated.
Tin whiskers grow from the bottom in the form of single crystals of pure tin with very high length to width ratios.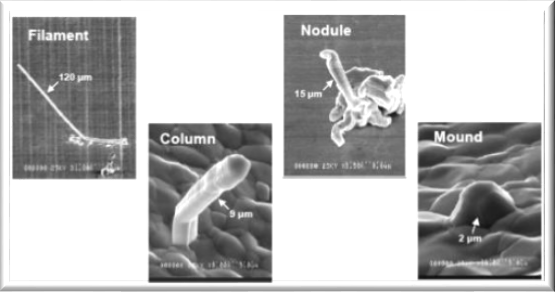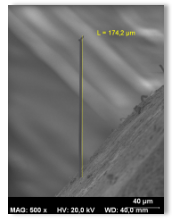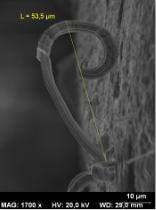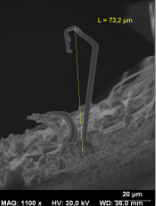 Figure 5. SEM images representative of the types of Sn whiskers. (a) Needle-like; (b) Spiral and (c) Kinked
Whisker growth starts after an incubation period that varies from seconds to years.
Although new plating processes have been developed that appear to reduce the risk of tin whisker growth, there is currently no industry-accepted test for determining the propensity of tin whiskers to grow on a finished surface.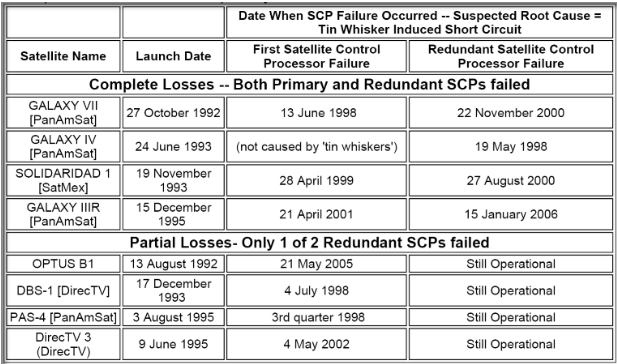 Whiskers have been proven to have caused the failure of satellites, heart pacemakers and caused the shutdown of nuclear power stations.
At present, and because the phenomenon is not yet fully understood, the growth of tin whiskers can only be mitigated but not eliminated.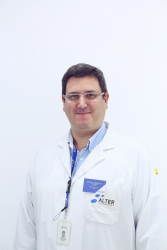 Latest posts by Dimas Morilla
(see all)