Drones, according to the last regulatory proposal published by EASA (NPA-A, 2017) and ratified in the Official Opinion published this year by this European Entity, are also suitable for testing to intent the CE Mark, as a mandatory requirement in a similar manner to other industries and sectors.
In an early stage, this CE Mark is proposed for vehicles and related systems (on ground and on board), under the open category, according the official operational categorization, but is reasonable to consider that this scope will be extended to the specific and certified category (for obvious reasons).

Coming back to the mentioned proposal, the main question is:

Should I certify my drone through this CE mark?
… By now, as long as this proposal is not official, is not a mandatory statement yet. But is totally recommended to be prepared for the nearby future. This is why we will comment some important aspects to take into account for your drone certification.
Article 14 indicates the General principles of the CE marking, and highlights that
The CE marking and, when relevant, the UA class identification label, shall be affixed visibly, legibly and indelibly to the product, unless that is not possible or not warranted on account of the nature of the product. The CE marking and the UA class identification label shall also be affixed visibly and legibly to the packaging and to the user's manual.
The UA Class identification label?
When is time to fly a drone, the pilot should take into account the drone class. These classes represent the minimum features that our drone should have. For this reason, EASA considered the inclusion of these labels as a good option to differentiate the essential drones' capabilities.
According to EASA these class labels are:
These labels together with the CE marking for drones are the way to verify and validate the safety capabilities of a machine to comply the essential requirement promoted by the European Commission.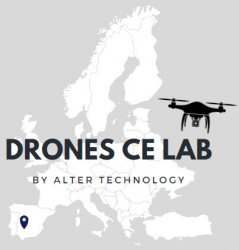 Latest posts by Drones CE Lab
(see all)