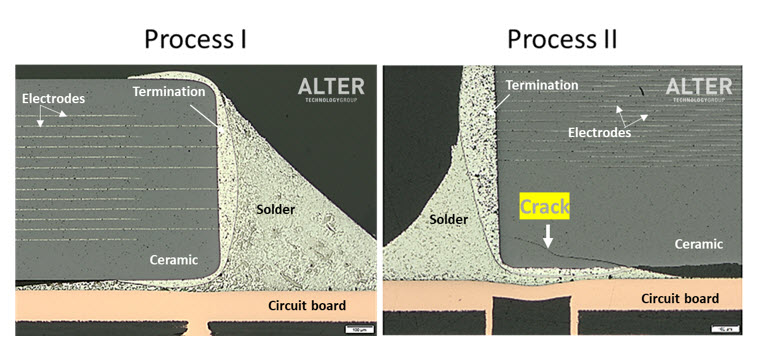 Cross- sectioned ceramic capacitors were metallographic prepared in ALTER TECHNOLOGY Materials & Processes Laboratory, recognized as a recommended facility for such activity by ESA authority (MEMO ESA-TECMSP-MO-013165).
Sample & Method
Ceramic capacitors assembled using different techniques have been submitted to the verification programme defined by ECSS-Q-ST-70-38C Rev.1. Metallographic analysis allows us to check the status of such devices after performing environmental tests (Vibration & Thermal Cycling).
Remark
Ceramic capacitors assembled using the soldering process I presented a good internal structure. No evidences of crack on the ceramic body nor delamination were observed. On the contrary, ceramic capacitors assembled using process II showed a crack on the active area of the device. According to ECSS-Q-ST-70-38C Rev.1 clause 14.10.k, this crack is identified as a verification failure.
Contact us for more information