High Brightness Semiconductor Lasers as Transmitters for Space Lidar Systems
Preview: I. Esquivias 1, G. Ehret 2, M. Quatrevalet 2, A. Pérez-Serrano 1, J.M.G. Tijero 1, M. Faugeron 3, F. van Dijk 3, M. Krakowski 3, G. Kochem 4, M. Traub 4, J. Barbero 5, P. Adamiec 5, X. Ai 6, and J. Rarity 6.  1 Universidad Politécnica de Madrid, ETSI Telecomunicación-CEMDATIC, Spain. 2 Institut für Physik der Atmosphäre, DLR, Germany. 3 III-V Lab Campus Polytechnique, France. 4 Fraunhofer Institute for Laser Technology ILT, Germany. 5 Alter Technology TÜV Nord S.A.U., Spain. 6 University of Bristol, Department of EEE, United Kingdom.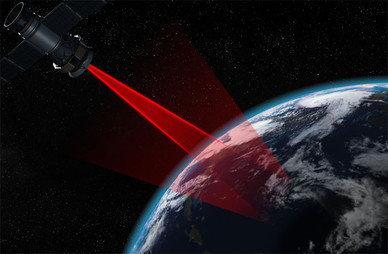 Abstract— High brightness semiconductor lasers are potential transmitters for future space lidar systems. In the framework of the European Project BRITESPACE, we propose an allsemiconductor laser source for an Integrated Path Differential Absorption lidar system for column-averaged measurements of atmospheric CO2 in future satellite missions. The complete system architecture has to be adapted to the particular emission properties of these devices using a Random Modulated Continuous Wave approach. We present the initial experimental results of the InGaAsP/InP monolithic Master Oscillator Power Amplifiers, providing the ON and OFF wavelengths close to the selected absorption line around 1572 nm.
Keywords—Differential Absorption lidar; atmospheric sensing; Integrated Path Differential Absorption; Random Modulation CW lidar; semiconductor laser.