WHAT WE OFFER TO OUR CUSTOMERS
Comprehensive experience in the space market
Parts engineering expertise to support the selection and design-in of products
Prototype and pilot assembly
Development of automated volume manufacturing process
Testing capability for all screening tests
Microelectronics, optoelectronics and MEMS for high reliability and high-tech fields

Packaging design & assembly
Engineering and technical support
Components supply
Testing

 Equipment and systems testing
 Certification and engineering
Alter Technology offer a wide range of services, from parts procurement to equipment testing, including radiation, packaging design and assembly, screening, destructive physical analysis, qualification, environmental testing, failure analysis, obsolescence management, counterfeit assessment and many more.
Our quality and environmental policy aims at continuous improvement of our processes to fully satisfy our customers by providing the best state-of-the-art and technologically advanced services. To guarantee this, our quality and environmental management system is certified to ISO 9001, EN 9100 and ISO 14001 and our radiation testing facilities are ISO/IEC 17025 accredited.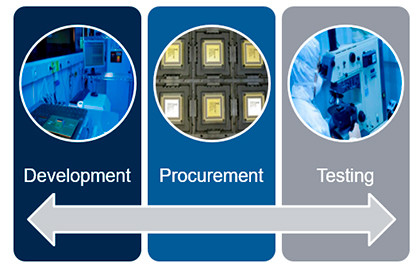 EEE components are basic elements of any electronic system and the main factor that determines the final equipment performance, including the electrical and mechanical properties of the equipment and its ability to work under harsh environmental conditions of the application. A certain set of testing needs to be performed to verify and guarantee that the device characteristics meet the application requirements.
Alter Technology Main Services
Design, assembly and test capabilities
Optoelectronics and photonics
Power devices
Very extreme temperature applications
ASICs development
Radiation effects analysis
Equipment testing and certification
Training centre
Experts in engineering, technical support and testing of EEE parts for high-reliability applications
Radiation Effects Analysis
– In-house radiation testing – TID performance
– SEE tests (heavy ions, protons and neutrons)
– Analysis and reporting
COTS (Commercial Off-The-Shelf)
– Methodology for the selection and procurement of COTS components (including risk assessment, part selection and reliability assurance)
Packaging Design & Assembly
– Providing contract package design and assembly services for microelectronic and optoelectronic devices
Electrical Testing
– In-house capacity, capability and expertise to screen electrically electronic components of any technology
Optoelectronic Testing 
– Optoelectronic measurements and device assessment under temperature, vacuum and combined effects
Physical Device Analysis
– Construction, DPA and failure analysis
Environmental Testing
– Fully equipped laboratory accredited for product qualification in accordance with MIL, ESCC and JEDEC requirements
Equipment Testing and Certification
– EMC, environmental, mechanical and safety engineering and testing
– CE conformity management
Parts Engineering/Logistics
– Electronic parts engineering (requirements and selection support), procurement, storage and logistics
A wide range of inspections, from those performed at the manufacturer's site to component failure analysis and through any testing that helps to take the decision about using the device in a certain application.
---
Innovation Activities Alter Technology
Developing new testing capabilities.
Developing new technologies for space applications.
Assembly methods: New package developmen and Parts assembly validation.
Technology Transfer: Nuclear environment, Avionics, Medical applications.
Quality System
UNE-EN 9100:2010 (QM for aerospace & defense)
UNE-EN-ISO 9001:2008 (QM requirements)
UNE-EN-ISO/IEC 17025:2005 (General requirements for calibration & testing)
UNE-EN ISO/IEC 17065:2012 (Product conformance evaluation)
UNE-EN-ISO 14001:2004 (Environmental management systems)
OHSAS 18001:2007 (Occupational health and safety management systems)
CertAlarm recognised test laboratory
CertAlarm recognised certification body
DLA laboratory suitability