La cátedra Alter-Universidad de Sevilla organiza un concurso de ideas para proyectos en "Efectos de la Radiación en la Electrónica"
¿A quién va dirigido
Estudiantes de la Universidad de Sevilla de cualquier titulación.
¿Cómo puedo participar?
Enviar un correo electrónico con archivo (pdf) adjunto explicando la idea del proyecto y su planteamiento de ejecución a "Esta dirección de correo electrónico está protegida contra spambots. Usted necesita tener Javascript activado para poder verla.". El asunto debe ser "Concurso de Ideas: Efectos de la Radiación en la Electrónica"
Fecha límite: Antes del 20 de Noviembre.
¿Cuál es el premio?
A las dos mejores propuestas se les premiará con la matrícula gratuita (valorada en 400€) al curso "SERESSA 2019" School on the Effects of Radiation on Embedded Systems for Space Applications (2-5 Diciembre en Sevilla). http://gestioneventos.us.es/go/seressa2019ç
Dependiendo del alcance y calidad del proyecto, se podrán ofrecer becas remuneradas a realizar en Alter Technology para la ejecución del proyecto presentado.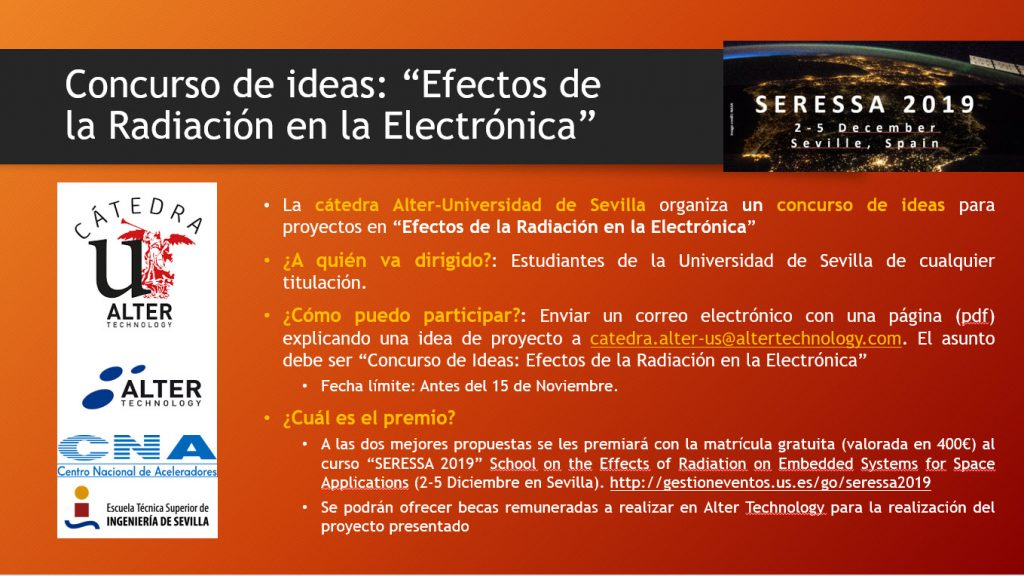 Últimas entradas de Media ATN
(ver todo)