Types of test and test flow for space applications.
Depending of the intended application electrical components are exposed to either transitory or permanent dynamic mechanical stress which can impair the performance (e.g. mechanically induced crack in PCBs systems or fretting corrosion in connectors  and others).
In order to ensure the proper system operation under such conditions, High-Rel EEE parts have to be submitted to thorough vibration test before their implementation in different areas. These tests must be carried out according to different specifications depending on the application areas, such as those included in the following table.
Defense/Military
Aerospace
Automotive
Space
…
Space environment
Electrical equipment in rocket boosters and spacecraft are subjected to high dynamic loads and mechanical shocks of different nature. Space launch involves low frequency vibrations generated during lift-off, motor excitation, buffet and shut-offs. In addition, large shock-loads are experienced during the space trip, particularly in pyrotechnic separation stages which also involves high frequency shock waves.
Such dynamic loads are responsible for different failures modes in EEE systems. For instance, excessive deformations and accelerations (g-loads) experienced by assembled-system parts cause heavy damage in connectors, surface mounted devices (SMD), printed circuit boards (PCBs) and similar electrical components.
A clear example of a vibration induced failure in a SMD systems is PAD cratering in BGA, CGA and bottom termination components. Hence, the ability to simulate, in ground, this mechanical stress or the capacity to investigate structural dynamic characteristics is critical for the successful qualification of new EEE part for space applications.
Test flow
In order to illustrate the different tests that are conducted within a full vibration study, the next figure shows the stages of a typical vibrations test performed according to the ESCC specification ECSS-Q-ST70-08C followed in ESA (European Space Agency) projects.
These tests are grouped in two blocks corresponding to high-level i) sine-sweep high and ii) random vibrations that must be applied independently over three orthogonal axes. As it is indicated in the test flow each high-level vibration, either sine or random, is preceded and followed by low-level sine-vibration surveys in order to analyse the modification induced in the mechanical properties (e.g. development of resonant features) of the device under test (DUT) as it is explained below.
Contact us for more information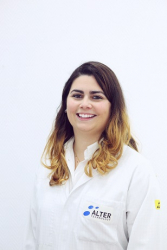 Latest posts by María Teresa Rodríguez
(see all)