EMC SEMINAR
Introduction to the EMC Regulation in Aeronautics and Space
EMC REGULATIONS

There are situations in both civil and military applications where it is necessary that a number of teams can operate in the same environment simultaneously. Therefore, the need to create an EMC Regulation in Aeronautics and Space;
To avoid or minimize problems in these situations, it is necessary to establish limits or controlled modes of operation.
Rules, Regulations and Norms have been developed and imposed on electronic equipment and systems.
It is important to note that the requirements and updates of the regulations are in constant state of change.
Militaries
MIL-STD (EEUU)  Military standard published by the Department of Defense of the United States that defines the mechanical, electrical and functional characteristics of a serial data bus.
STANAG (OTAN) It is a Standardization Agreement or "Agreement of Normalization" in Spanish, defines processes, procedures, terms and conditions of equipment or procedures and military techniques common among the member countries of the alliance.
EMC STANDARDS IN EUROPE
Find out below what type of Regulation or Regulation should be applied in the different sectors within the European Union
Published by RTCA "Radio Technical Commission for Aeronautics", a private non-profit association that was founded in 1935. It currently has more than 600 active members, among which are airports, airlines, government agencies, manufacturers, Defense Department…
This new regulation covers standard procedures and environmental test criteria to test electrical and electronic equipment in the air (avionics). The tests specified in DO-160G are generally performed to comply with the Federal Aviation Administration (FAA) or other international regulations that cover electrical or electronic equipment that is installed on commercial aircraft.
The latest version of the regulations was published in December 2010. The publication came in coordination with EUROCAE.
Thus, the two regulations, RTCA DO-160G and EUROCAE ED-14G are drafted identically.
On the one hand, RTCA DO-160G is in fact recognized by the International Organization for Standardization (ISO) as an international standard ISO-7137.
As a general rule, the Federal Aviation Administration (FAA) and the European Aviation Safety Agency (EASA), accept test reports, according to the RTCA DO-160, of equipment embarked on commercial aircraft, both from accredited and non-accredited laboratories .
We are therefore faced with a standard applicable to equipment on board aircraft, where "environmental conditions and test procedures for airborne equipment" are taken into account: DO-160 / ED -14.
The new standard establishes the minimum test conditions (categories) and corresponding test procedures for on-board equipment. It includes EMC, climatic and mechanical requirements.
The reason of these tests is to provide a controlled environment (laboratory) to ensure the performance of the on-board equipment, in conditions similar to those found in its mode of operation.
Following are the different tests (sections) stipulated in the new regulation RTCA-DO-160G.
ENSAYOS (SECCIONES) RTCA-DO-160G
| wdt_ID | Section | New column | New column | New column |
| --- | --- | --- | --- | --- |
| 1 | Section | Title | Section | Title |
| 2 | 1 | Purpose and Applicability | 2 | Definitions of Terms |
| 3 | 3 | Conditions of Test | 4 | Temperature and Altitude |
| 4 | 5 | Temperature Variation | 6 | Humidity |
| 5 | 7 | Shock | 8 | Vibration |
| 6 | 9 | Explosive Atmosphere | 10 | Waterproofness |
| 7 | 11 | Fluids Susceptibility | 12 | Sand and Dust |
| 8 | 13 | Fungus Resistance | 14 | Salt Spray |
| 9 | 15 | Magnetic Effect | 16 | Power Input |
| 10 | 17 | Voltage Spike Conducted | 18 | Audio frequency Conducted Susceptibility |
| | Section | New column | New column | New column |
Of these 26 sections, those that are part of the EMC Regulation in Aeronautics and Space should be highlighted. From section 16 to 25, discarding 24 (Icing), are those that are part of the regulations.
NORMATIVE SPACE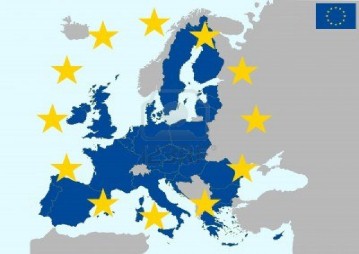 The European Cooperation for Space Standardization (ECSS), establishes an initiative to develop a single package of standards, coherent, and easy to use, with application to all European activities in the space sector.
Organization: – ECSS
Members: – Agencies (ESA, CNES, DLR …)
Industry: – Eurospace
Associates: – Canadian Space Agency (CSA)
Observers: – CEN-CENELEC – EUMESAT – European Defense Agency (EDA)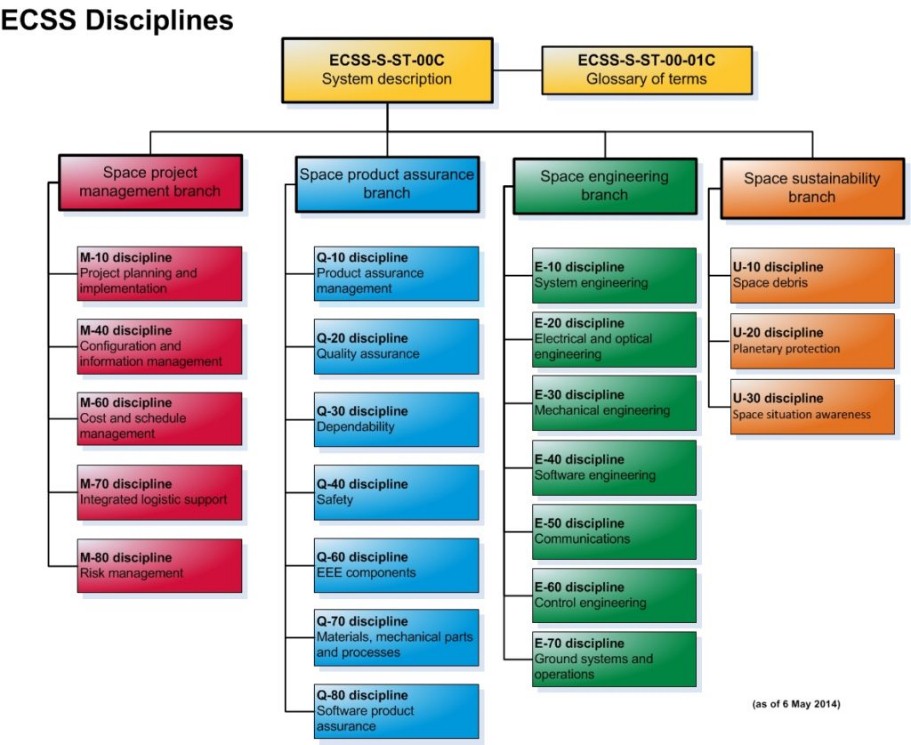 ECSS-E-ST-20-07C Rev.1 "Space Engineering / Electromagnetic Compatibility"
The EMC policy and the general requirements of the systems are specified in the ECSS-E-ST-20 standard "Space Engineering / Electrical and Electronics"
Annex A: "EMC Control Plan (EMCCP)": Defines the approach, methods, procedures, resources and organization
Annex B: "Electromagnetic Effects Verification Plan (EMEVP)": Defines and specifies the verification, analysis and testing processes,
Annex C: "Electromagnetic Effects Verification Report (EMEVR)"
ECSS-E-ST-20-07C Rev.1: Last revision published on 02/07/2012
It includes the detailed requirements of the system (Section 4), the general test conditions, the verification requirements at the system level and the test methods at the subsystem and equipment level (Section 5), as well as the recommended limits (Annex A) .
This standard can be adapted to the specific characteristics and limitations of a spatial project, in accordance with the ECSS-S-ST-00 standard, defining a specific test plan for each project.
Latest posts by Media ATN
(see all)