The "AMSTERDAM DECLARATION" for the Drone Market was Finally Signed in the Framework of the Drone Week 2018
Una buena noticia para el sector de los drones es la firma de la "Declaración de Amsterdam" el día 28 de noviembre, por parte de la Comisión Europea (CE), la Agencia Europea de Seguridad Aérea (EASA) y el Ministerio de Insfraestructura y Gestión del Agua neerlandés.
Esta Declaración insta a las Instituciones e Industrias europeas a contribuir en el progreso hacia la entrega de un mercado común de servicios con drones basado en 7 prioridades:
Proporcionar soporte a los Estado Miembros en la implementación de la regulación europea para drones.
Desarrollar, en coordinación con los Estado Miembros y los distintos actores del mercado de los drones, un marco institucional para un mercado competitivo de servicios de U-Space y en cómo operarán estos sistemas en un cielo único europeo.
Desarrollo de estándares europeos de producto y otros adicionales que permitan el cumplimiento de los requisitos operacionales y funcionales considerando su dimensión global.
Brindar soporte a las ciudades en su esfuerzo por proporcionar nuevas soluciones que se integren en el proceso de planificación urbana.
Desarrollar material promocional y de comunicación para campañas informativas a todos los usuarios de drones y otros actores involucrados en las operaciones con estos sistemas tales como las autoridades locales.
Mejorar la red de demostradores en el campo del U-Space para acelerar la apertura de una red global de servicios con drones.
Invertir en las actividades de investigación y desarrollo necesarias que contribuyan al crecimiento de la seguridad operativa con drones, respetando el medio ambiente.
Cabe destacar que, en el marco de este evento (Amsterdam Drone Week), la EASA ratifica que la oficialización del marco normativo europeo para drones se dará en la primera mitad del año 2019.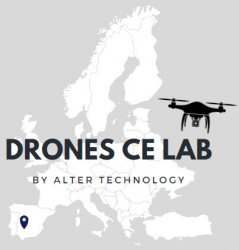 Últimas entradas de Drones CE Lab
(ver todo)