Ensure safety and reliability, meet regulations and standards
In the aeronautics industry, where a single malfunction can be catastrophic, safety and reliability are critical values.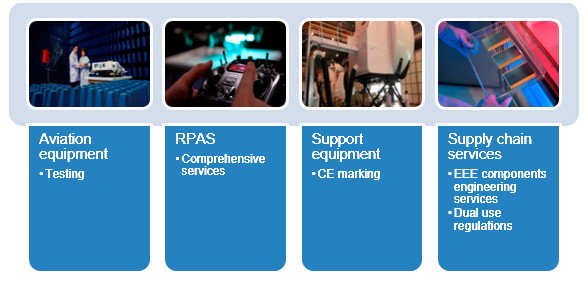 Testing of Aviation Equipment
The RTCA DO-160 standard (Environmental Conditions and Test Procedures for Airborne Equipment), defines a series of minimum test conditions and applicable test procedures for commercial airborne equipment.
Coordinated with EUROCAE (European Organization for Civil Aviation Equipment), latest revisions of RTCA/DO-160 and EUROCAE/ED-14 are identically worded, the latest revision of the RTCA standard being DO-160G issued in 2010 with Change 1 issued in 2014.
The purpose of these tests is to determine by laboratory means the performance characteristics of equipment in environmental conditions representative of those which may be encountered in its airborne operation.
The testing scope includes mechanical, climatic, fire, electrical, electromagnetic compatibility and lightning testing of avionics equipment for the entire spectrum of aircraft.
The standard consists of 26 sections the first three of which Purpose and Applicability, Definition of Terms and Conditions of Tests.  Sections 4 to 26 cover the following test procedures:
Section 4 Temperature & Altitude
Section 5 Temperature Variation
Section 6 Humidity
Section 7 Operational Shock and Crash Safety
Section 8 Vibration
Section 9 Explosion Proofness
Section 10 Water Proofness
Section 11 Fluids Susceptibility
Section 12 Sand and Dust
Section 13 Fungus Resistance
Section 14 Salt Spray
Section 15 Magnetic Effect
Section 16 Power Input
Section 17 Voltage Spike
Section 18 Audio Frequency Conducted Sucsceptibility – Power Inputs
Section 19 Induced Signal Susceptibility
Section 20 Radio Frequency Susceptibility (Radiated and Conducted)
Section 21 Emission of Radio Frequency Energy
Section 22 Lightning Induced Transient Susceptibility
Section 24 Icing
Section 25 Electrostatic Discharge (ESD)
Section 26 Fire, Flammability
Our services
Alter Technology has all the necessary test facilities and experience to perform most of the mechanical, climatic, electrical and electromagnetic compatibility tests in accordance with RTCA DO-160.
Our expertise
Independence and neutrality
Alter Technology is an ISO 17025 accredited laboratory for EMC, electrical, climatic and vibration testing (ENAC accreditation number 345/LE808)
We look forward to sharing our expertise with you.
Latest posts by Media ATN
(see all)