SEE testing on GaAs test vehicles. Methodology, Results and Derating. Lessons Learned
Talk summary: Radiation sensitivity of GaAs components is not really well known, compare to other technologies. Traditional radiation harness policy consisted in a good derating in DC bias conditions to ensure operation inside a known or expected DC safe operating area (SOA). However destructive single event effects (SEE) have been seen on some MESFET devices under nominal DC bias and RF signal and conditions which were compliant with standard derating requirements.
Many discussion have been arisen during last years regarding necessary SEE radiation testing and derating policy to define a proper SOA: do we need to test or not with RF applied?, what RF signals?, do we need to test other technologies than power MESFET like HEMT, pHEMT?, have we to modify derating rules?.
Under an ESA contract, TAS selected several European technologies (OMMIC D01PH pHEMT; OMMIC ED02AH pHEMT; UMS PPH25X pHEMT; UMS HP07 MESFET) and non-European ones (MITSUBISHI High Power MESFET; Sumitomo "7" Series MESFET, Sumitomo Low Noise pHEMT) to test under DC and DC+RF signals trying to achieve worst case conditions.
The present paper details test vehicles, test methodology and set-up, test results  and derating lessons learned of the SEE heavy ions campaign performed at UCL Belgium test facility last November'2015.
Play the Video PAPER or download the presentation.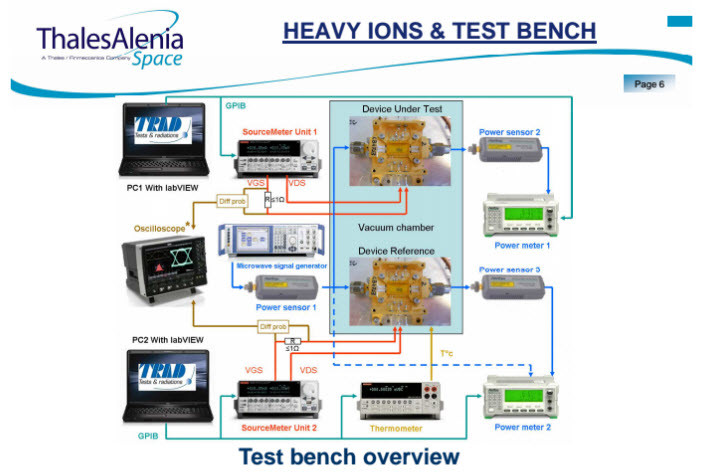 Speaker:

Luis de Pablo graduated in Theoretical Physics by Autonomic University of Madrid in 1988. He
has worked in procurement of EEE parts for Space in several companies as Alter, Airbus and
now Thales Alenia Space. He is the Component Skill leader at TASE.