Internal (invisible) fabrication and materials defects can critically compromise the performance of encapsulated microelectronics parts. Similarly, accidental constructional failures (missing parts) and counterfeit suppose and non-negligible issue in the current EEE market. Therefore, reliable non-destructive inspection tools are essential for the for the suitable identification and screening of internal defect in encapsulated systems.
However, internal non-destructive inspection becomes a challenging task because of the higher complexity and miniaturizations of current EEE assemblies, for instance chip-scale packages and 3D integrated circuits stacks. In this regards SAM is one of the preferred non-destructive method for the assessment of microelectronic assemblies and components.
Plastic encapsulated IC
Flip Chip systems (CGA, FCBGA, PBGA, FPBGA…)
Bonded Wafers
Printed Circuit Boards
Capacitors
MEMS…
Amongst other types of failures Acoustic techniques are particularly suitable for the detection of those irregularities involving materials and density changes including voids and porosity as well as cracks and delamination. In particular, acoustic microscopy has proved to be the ultimate non-destructive approach for the identification of ultrathin air delamination in multilayer systems, being sensitive to air features of sub-micrometric thickness. Other features typically detected by the techniques in microelectronic systems are:
General failures:
Non-bonded interfaces (e.g. bonded wafers)
Die tilt or cupping
Interlaminate disbonding
Porous or insufficient die attach
Die cracks
Molding compound voids
Chip package cracks
Delamination within the substrate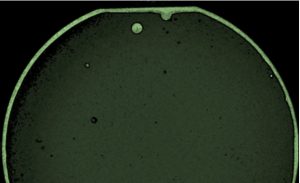 Ball Grill Arrays and specific failures.
Defects in Cu pillars, solder balls and TSVs
Excessive filler height or die attach material
Solder mask or "lead finger" disbanding
BGA package cracks
Integrated circuits specific failures
IC package cracks ("popcorn" cracks)
Lead frame delamination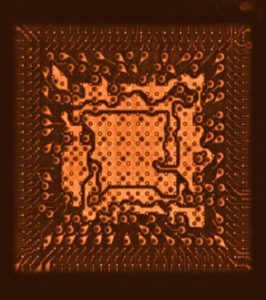 Hybrid and Multi-Chip Module (MCM) specific failures
Heat sink solder bond integrity
Lid seal bond quality
Insufficient solder material
Excessive solder reflow
Seal integrity