Project: Characterization of SiC JFET & MOSFET
Customer: ESA (European Space Agency)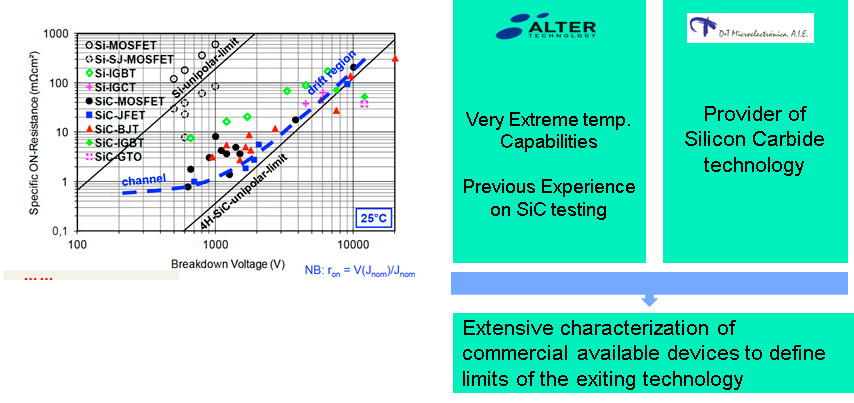 Key elements
-Access to SiC manufacturers (ACREO, INFINEON, SEMELAB, ST…..)
-Alter Technology as reference test house
-To define NEW test methods to understand SiC performance
Evaluation of SiC JFET & MOSFET
Key Testing parameters:
Temperature characterization: SiC -> T>150ºC
High Voltage (up to 1700V) plus high temperature testing (175ºC)
High Power Tests: 17A Devices
Evaluation of maturity of technology for space applications:
Reliability issues of some JFET commercial devices (early stages of normally OFF technology)
Threshold instabilities in SiC MOSFET
Good performance of JFET Normally ON products. Life tests with good results.
Evaluation of SiC JFET & MOSFET
-Radiation testing:
-Sensitivity of SiC MOSFET to TID
-Sensitivity of SiC MOSFET to Heavy Ions

Graph1. SiC MOSFET gate sensitivity to Heavy Ions detected by means of PIGS (Post Irradiation Gate Stress) test.
Graph2. Gate degradation (Vth decrease) of SiC MOSFET under TID.
Latest posts by Media ATN
(see all)