En la microscopía acústica, la resolución y la profundidad de inspección son parámetros inversamente relacionados que dependen de la frecuencia de la sonda y de las características de los materiales implicados. Por lo tanto, la frecuencia de inspección debe ser cuidadosamente seleccionada para optimizar la precisión sin disminuir la profundidad de inspección por debajo del espesor de la muestra. La selección adecuada de los parámetros de inspección permite
Detección de delaminaciones ultrafinas (submicrométricas) en sistemas multicapa.
Resolución lateral micrométrica.
Además, la técnica permite la inspección interna de diferentes planos de corte (sección transversal virtual no destructiva) y el análisis simultáneo de defectos e interfaces a diferentes profundidades. Esto dota a la técnica de capacidades de inspección multifocal en profundidad que, a su vez, se utilizan para la reconstrucción tomográfica en 3D de estructuras internas complejas.
Confocal inspection (C-Scan mode) 
This scanning mode analyses the internal structure at a fixed depth within a selected thickness. By this way, it generates a stratified image of the component. In the resulting image, the higher intensity of the acoustic waves reflected at air interfaces and defects provides a clear contrast. Thus, this scan mode is particularly sensitive to air voids and delaminations; and permit the defection sub-micrometric-thick features.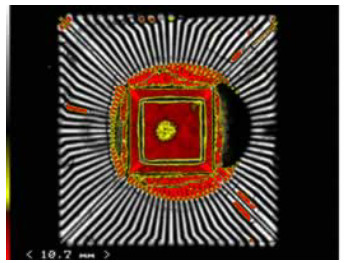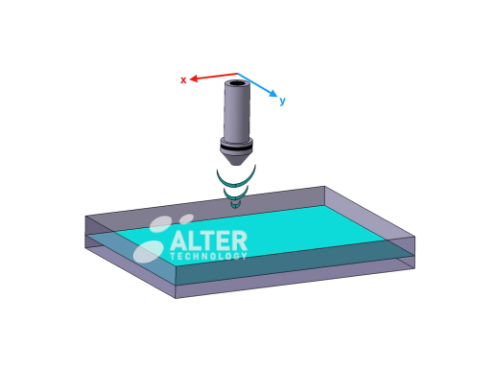 Modo de transmisión directa (modo Th-Scan)
El modo de transmisión transversal (modo Th-Scan) es un modo de exploración que analiza la intensidad del haz de ultrasonidos que se propaga a través de todo el espesor de la muestra. Este modo de escaneo se utiliza para la inspección exhaustiva de todo el sistema en un solo escaneo. Además, esta inspección complementaria a los análisis de reflexión confocal (C-SAM) es muy eficaz en la detección de defectos ocultos en la fijación de la matriz y para confirmar la interpretación de los hallazgos del C-SAM. La imagen siguiente compara las imágenes C-SAM y Th-SAM adquiridas simultáneamente. Esta comparación muestra cómo las zonas delaminadas producen una fuerte reflexión (zonas muy brillantes en la imagen C-SAM) y una baja intensidad en la señal transmitida.
Sección transversal virtual (modo B-Scan)
En este caso, el sistema combina los análisis de múltiples profundidades realizados secuencialmente a lo largo de una línea determinada para reconstruir una imagen de sección transversal resuelta en profundidad como la de la figura.
Inspección multifocal (modo X-Scan)  
Para la inspección multifocal, el sistema acumula varios C-scan registrados simultáneamente a profundidades seleccionadas. Esto permite inspeccionar diferentes materiales e interfaces en un único proceso de escaneado.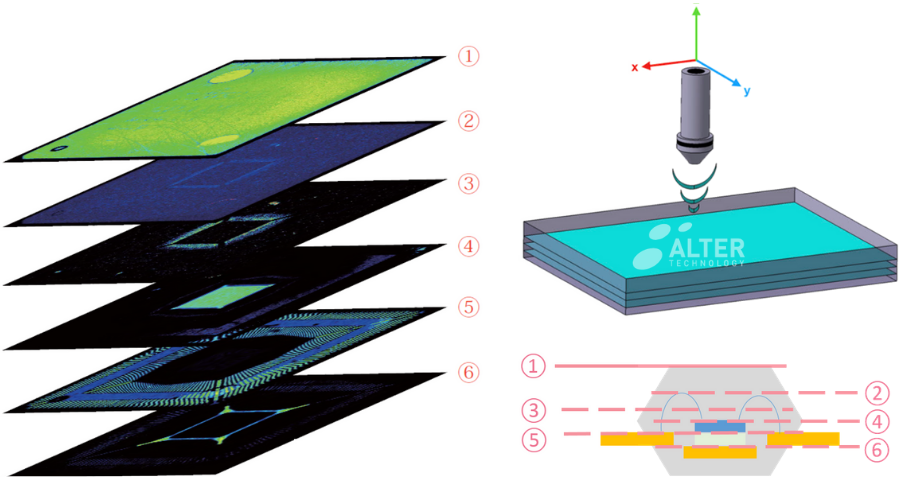 Tomografía 3D (modo Z-Scan)
La información tridimensional adquirida en las exploraciones X permite la reconstrucción tomográfica de la estructura interna del sistema.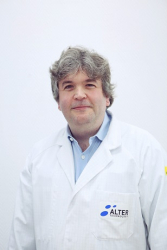 Últimas entradas de Francisco Javier Aparicio Rebollo
(ver todo)