Talk summary:
Third party dice radiation test for a manufacturer has never been an easy thing thanks to the exigent requirement from the users and difficulties from the die side. Things are becoming worse since the semiconductor came into a sub-micron and deep sub-micron era. New challenges and 3D PLUS radiation test strategies are presented.
The General background is that the space market volume is negligible comparing to commercial market – no bargaining power.
What ever RH die or COTs, the detail designs are always treated as confidential by semiconductor – mostly cases are like the black box; Sometimes it is difficult to get general process information (ex: bipolar? CMOS? bulk? epi?…), and most time it is impossible to get detail process information (ex: gate oxide, isolation structure details…) – hard to estimate the radiation characteristics.
Speaker:

Pierre-Xiao WANG received the BS in electronics at SouthEast University and MBA at ESC Grenoble. He started his career as an Engineer, and now is the Hi-Rel Product Manager at 3D Plus with almost 20 years of experience in electronics and around 10 years of experience in space and radiation activities.
Radiation test strategies for a manufacturer
Radiation test strategies for a manufacturer using third party dice
When the space comes into high scaling Deep submicron (DSM) semiconductors, new technical & commercial challenges show up:
⇒Technically, DSM radiation behavior is complicated to manage:
New structure & process are not always good to radiation;
Big variations from process to process, manufacturer to manufacturer, design to design, revision to revision, P/N to P/N, lot to lot and even now piece to piece;
Hard error mix with soft error: bit flip from TID; Micro Latch up (High current SEFI) & SEL, permanent SEFI
Complicated Soft errors: single bit error, double bit error, multi-bit error, row error, column error, stuck bit, persistent flip bit & annealing, temporary SEFI, persistent SEFI, device SEFI, high current event…
⇒Commercially, Semiconductors optimize their manufacturing to lower the cost, but it is sometimes
catastrophe to space:
Shrinking the process, modifying the materials, changing the foundry
Shorter life cycle: 6 months to 1 year life cycle comparing 1 to 2 years component qualification
Semiconductor Product Long Life Management (PLM) is highly risky to space traceability
Combining Die design makes die mask verification difficult (MLC & SLC)
The new radiation test challenge and 3D PLUS solution
A fairly large evaluations when looking for the candidate (ex: around 20 SRAMs had been scanned)
Make the completely qualification (following ECSS/ESCC standard) when a potential good die shows up
Make a strategic inventory (bargaining power) at 3D PLUS to make sure traceability and technical supports
Reuse the result and do further design oriented tests to put more added values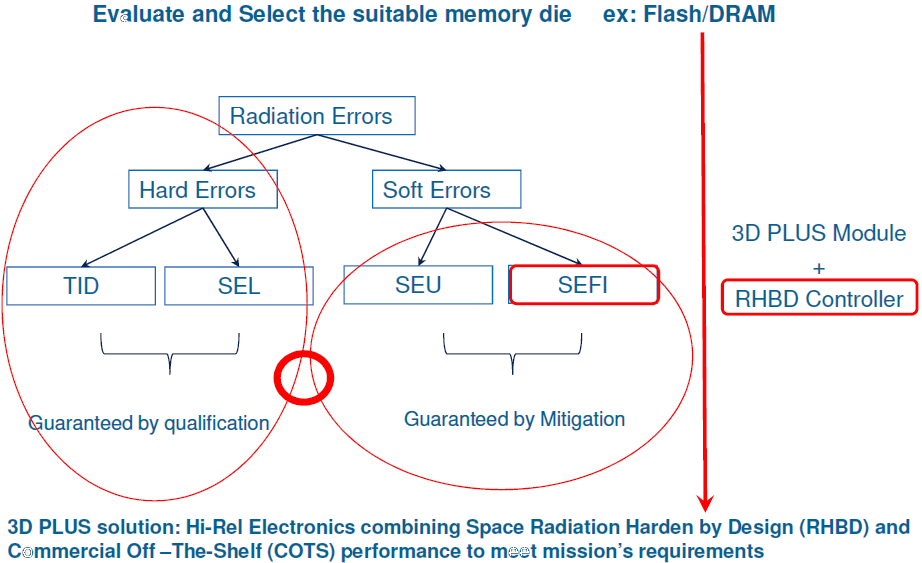 RIMC IP – RH DDR2/3 Solution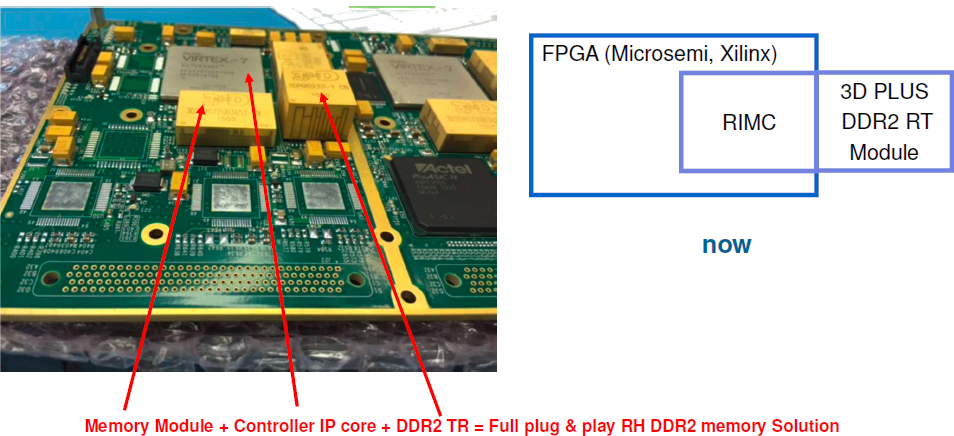 3D PLUS radiation test strategies to use third party dice:
Following ECSS/ESCC standard to do the radiation test
Maintain a privilage relationship with semiconductors
More added value tests oriented to design (radiation mitigation)
This post is also available in: Spanish