Flip chip
Flip chip (also known as direct chip attach) is the process whereby a semiconductor die is attached bond pad side down to a substrate or carrier. The electrical connection is made by means of a conductive bump on the die bond pad.
Once the die is connected the stand-off distance between the die and substrate is typically filled with a non-conductive adhesive referred to as underfill. The underfill provides stress relief between the die and carrier, provides robustness, and protects the component from any moisture ingress.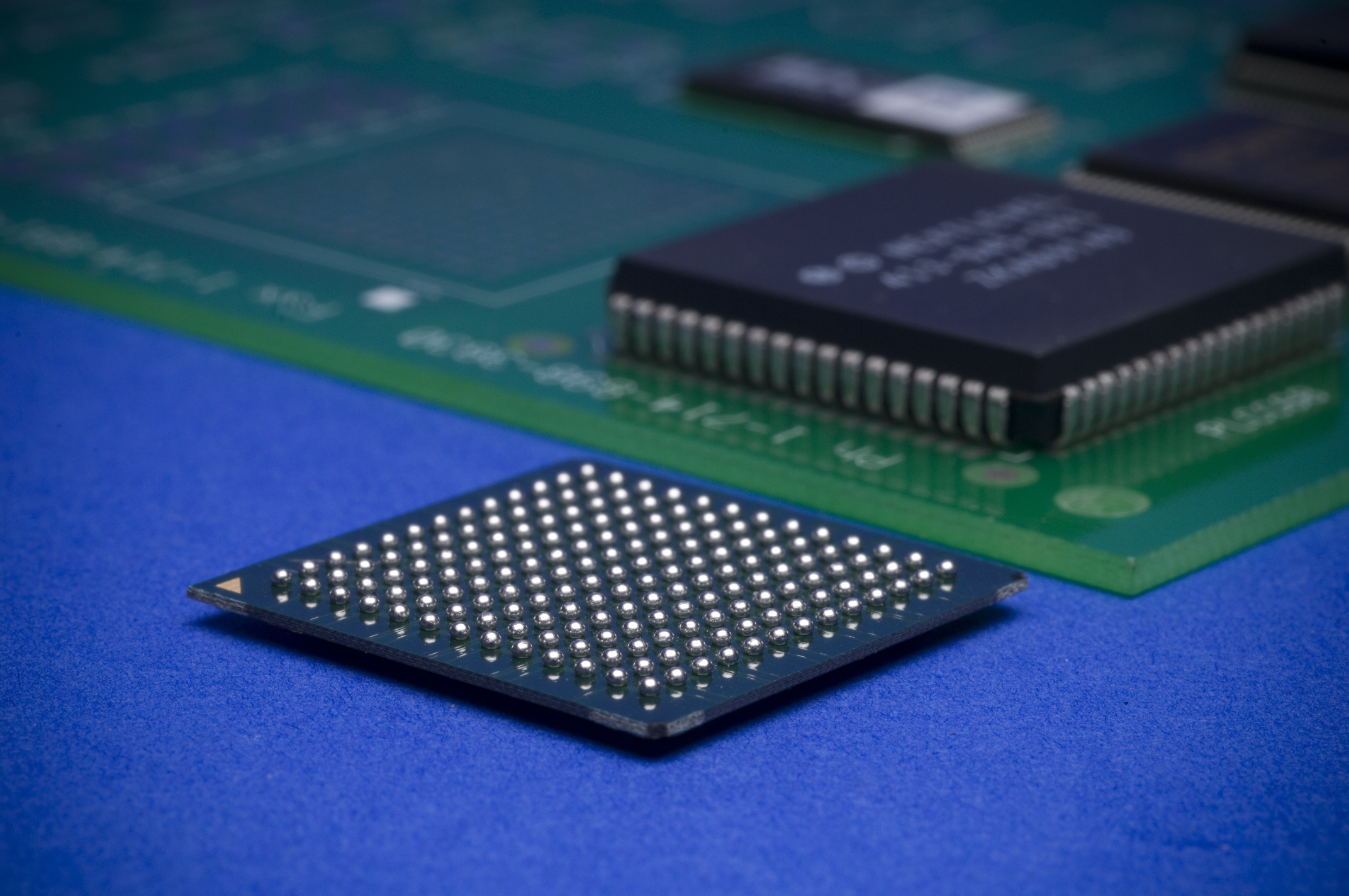 Flip chip bonding can offer a number of advantages over other interconnection processes. Flip chip bonding can provide higher I/O count as the whole area of the die can be used for connections. Due to the short inter-connection paths, compared to wire bonds, the speed of a device can be improved. In addition, as wire bonds loops are removed it provides a smaller form factor.
Optocap has detailed know-how in a wide variety of processes and materials;
Typical Materials

Substrate: BT Laminate, Ceramic, FR4, silicon
Packages: Customer specified
Underfill: Hysol FP4530, FP4511, Fluxing Underfills etc.
Bump material; Au stud bumps, Eutectic, High Pb, Pb free, Sn coated Au ball bumps.
Die: Si, GaAs, GaN, SiGe, MEM's, InP

Attach Process

Thermosonic or Thermocompression Au-Au attach
Solder bump reflow processes
Epoxy assisted processes on Au stud bumps
X-ray and cross-sections can be used to asses the interconnection joints and temperature cycling used to asses the reliability.
Optocap's expertise and capability in flip chip bonding will reduce risk and reduce time to market for your flip chip bonding requirements as well as providing a cost-effective manufacturing option.
Stud Bumping
Optocap has the ability to Gold (Au) stud bump wafers and individual die making them ready for a subsequent flip chip attach process. 
Gold stud bumping forms Au bumps using a process very similar to Au ball wire bonding. Like wire bonding it forms an Au ball (stud). However, the wire is terminated after the first bond so there is only a bump on the die.
Au stud bumping requires no Under Bump Metalization (UBM) or special wafer preparation, unlike the requirements for solder bumping. It also offers finer bump spacing than most solder bump technology without the added expense of a solder re-distribution layer.
Au stud bumps can be used on individual die or wafer and typically have much lower set-up costs than a solder bump approach. The ability to bump individual die makes Au stud bumping an extremely valuable tool in the prototyping phase, as well as a viable option for volume manufacturing.
For many sensitive devices such as lasers, MEMS and sensors the use of flux or adhesives is not allowed and a thermosonic or thermocompression Au-Au attach process offers a reliable flux free process to improve the device reliability.
Au stud bumps can be produced in wide variety of diameters and shapes depending on the application. For example, Stud bumps with diameters of 40-100um can be produced with heights of 20-80um. Co-planarity of +/-2.5um can be achieved without coining process. Stacked bumps can be used to increase the stand-off distance between the die and substrate to help accommodate substrate thickness variations and minimise CTE differentials. Gold stud bumps with pointed tips can be used for subsequent epoxy dipping.
Optocap's expertise and capability in Gold Stud bumping will reduce risk and reduce time to market for your Gold stud bumping requirements as well as providing a cost-effective manufacturing option.

Optocap provides contact package design and precision assembly services for a wide range of optoelectronic, microelectronic and MEMS devices. We offer end to end backend semiconductor manufacturing from wafer singulation to assembled product.
This post is also available in: Spanish