Talk summary:
The need for increased performance and features of electronic circuitry both for analogue and digital parts are pushing designers toward the fast adoption of components originated or widely used in the Commercial Off-The-Shelf (COTS) market. In the area of analogue electronics engineers look for the reduction of supplied power whilst providing increasing bandwidth and reduced noise figures, bias currents and offset voltages, and in the area of digital electronics for the increase of density and speed by making use of programmable and even reconfigurable circuits.
Any size reduction or new technology or process introduction presumably leads to loss of  radiation immunity. Even after Earth test campaigns to qualify the suitability of components or circuits, it may be convenient to conduct in-orbit campaigns within a space platform specifically designed to gather actual operation data and relay it to Earth for study.
Low Earth orbits provide an appropriate environment to characterize the response of any system versus proton and electron fluences as well as proton, electron and other energetic particles (ions) generated at the Sun and cosmic radiation.
EMXYS Naosat platform is nanosatellite specifically built as a test facility for, among others, study the response of several payloads to the action of the space environment. Implemented as a standard 3U-Cubesat, it provides a volume of 2Us for scientific and engineering payloads for missions as long as 2 years in duration.
A modular architecture specifically designed for integrating technology demonstrators and test applications in a fast-to-orbit cycle allows any interested team to prepare its payload for flight into orbit in less than 1 year. Existing radiation models and continuous monitoring of space weather allow designers to predict the radiation impacts over their designs and compare them with actual telemetry relayed from orbit.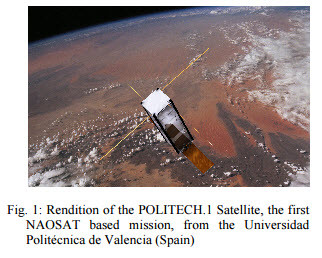 Speaker:

Dr. Jose A Carrasco was born in Alicante, Spain, in March 1967. After obtaining a M.Sc. in Physics in 1990, he worked for a period of two years as power electronics researcher for the ESA – ESTEC, Noorwijk, the Netherlands.
In September 1993, he joins the Laboratory of Industrial Electronics of the Universidad de Valencia, in Spain, where he obtains his Ph.D. in Electrical Engineering in 1996 for a work on high efficiency and reliability power conversion techniques for space applications.
In 1999 he joins the Universidad Miguel Hernandez where at present is an adjunct professor on Electrical Engineering.
In 2005 he co-founded the company EMXYS where he is CEO at present and has participated in several projects on power electronics, digital design and instrumentation.
EMXYS is an innovative company that designs, develops and produces embedded instruments, data acquisition and control systems for space, scientific and industrial applications.

The NaoSat nanosatellite platform for in-flight radiation testing
NAOSAT concept is developed over two platform concepts:   
CUBESAT (10 x 10 x 30cm, 3.5Kg in 3U formats)
• Power = 3 W average for payload (10% battery pack capacity), providing :
Maximum Discharge current : 10 A (min.)
Peak Discharge current : 20 A (sec.)
• Volume starting with 80 x 80 x 15 mm per slot. 1U for platform subsystems + 2U for Payload ( Earth-facing side)
• Payload Mass = 2.5 Kg
• TTC in VHF 140 MHz / UHF 430 MHz ISM band
• ADCS (Magnetorquers +Reaction Wheels (target 1º in pointing accuracy).
Hardware :
On-Board computer (CORTEX 32 bits + FPGA)
MPPT system, protected DC/DC converters, Two 2,5 A·h Li-Ion batteries in parallel plus protection stage.
ADCS (magnetorquers, MEMS- based IMU, magnetometer, 4 miniature Reaction wheels).
Flexible double-dipole TTC antenna.
Redundant CAN network + I2C + RS485
XCUBE (Extended CUBE Satellite)
20x20x30 15 Kg Platform (Target 20Kg)
Payload Power : 8 W average.
Payload volume 170 x 130 x 80 mm 2kg /slot
Fully protected/redundant platform with auto-start upon Sun detection for safemode start-up.
Payload Bay with complete ICD for custom made payloads.
Payload Bay with complete ICD for custom made payloads: standard PCB sizes for ready integration.
Payload Bay with complete ICD for custom made payloads.
Download or read the full report here
GDE Error: Unable to load requested profile.
Latest posts by Media ATN
(see all)